Here we share our work, thought pieces, and news.
JDi Design wins a "Best in Canada" Award.
Orgafile, an eco friendly modular filing cabinet designed by JDi Design of Vancouver BC,  has won the Best in Canada Design Award for product design.  The Best in Canada Design Competition is an annual award acknowledging outstanding achievements by Canadian designers.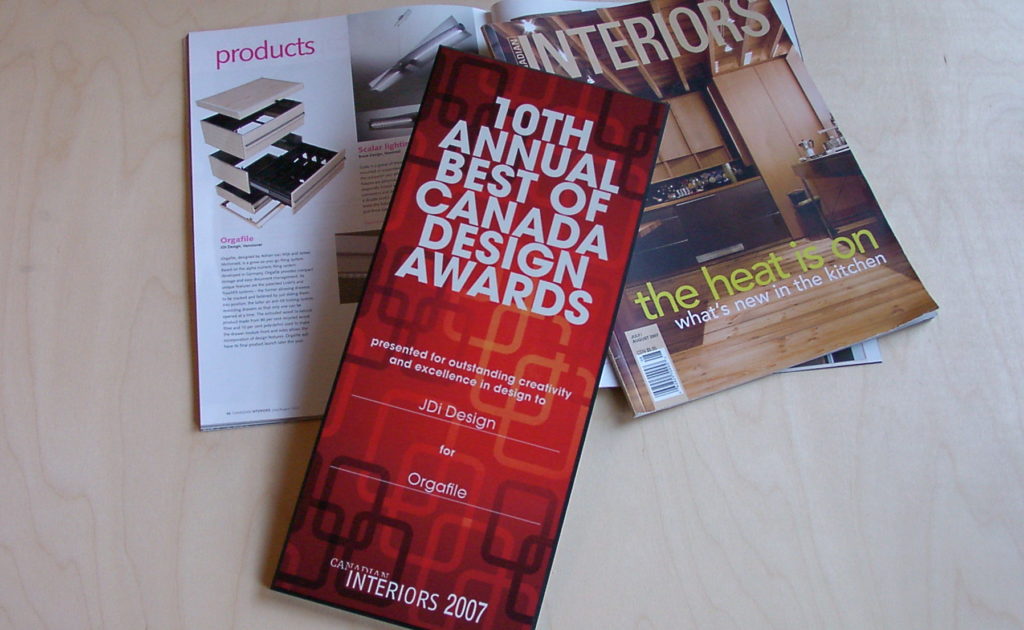 The Orgafile design challenge was to create a high quality, low cost, easy-to-use filing system.  The foundation of Orgafile is a modular, easily expandable, 2-drawer cabinet.  Customers buy the storage they need and then add more drawers as their filing needs grow.  By choosing a modular approach to the problem the consumers' initial investment is minimized allowing them to 'grow as they go'.
At the heart of the Orgafile design are 3 key patented features,  LinkFit, DrawerLock and TouchFit, all designed and developed by JDi Design.
LinkFit is a tool-free stack and click system that allows drawers to be added to a cabinet and secured by simply sliding them into position. 2 drawers becomes 3, 4 or more and a 5 drawer cabinet can be split into separate 2 and 3 drawer units. 
DrawerLock prevents the drawers of individual cabinet modules from opening until the cabinet has been fully assembled.
TouchFit is and anti-tilt locking system, which ensures that only one drawer can be opened at a time preventing the cabinet from tilting or toppling. 
Design for the environment was considered at every stage of the development process and Orgafile is proud to be a market leader in sustainable office furniture.  Drawer fronts and side panels are made from extruded wood, a product that requires no post-finishing like painting or varnishing and is available in variety of colors. It is made from 90% recycled post consumer wood fiber and 10% polyolefin and can be easily recycled. The product contains no harmful chemicals, VOC's or urea formaldehyde.  The filing system is based on a standard German Alpha Numeric system which was optimized by JDi design to be more space efficient. in order to minimize the material needed for the cabinet and save valuable office space.   Steel components have been minimised.   All of these features help minimizes the product's environmental impact.