Here we share our work, thought pieces, and news.
JDi Design Awarded the Prestigious "red dot" Award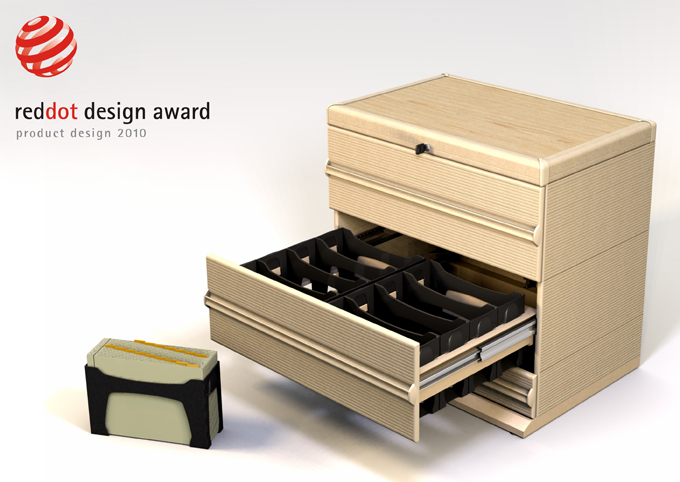 The Orgafile filing cabinet is a first in the industry to provide typical fixed-unit cabinet features including: an anti tilt mechanism, a general cabinet lock and a single module safety catch in a contemporary post consumer extruded wooden filing module. This unique modular filing system brings a breath of "clean" air with its style, feasibility and modularity to an established market.
JDi Design Inc., a design firm pioneering eco product development has received the prestigious red dot Design Award for their innovative "Eco, grow-as-you-go" Orgafile Modular Filing System designed for OrgaFile (Pty) Ltd. The red dot Awards are the largest and most renowned design competition in the world, presented annually by the Design Zentrum Nordrhein Westfalen in Germany.JDi Design's innovation in the Orgafile Modular Filing System proves that eco effective design for mass production is both sustainable and makes for good business. The jury of international renowned design experts awarded the Orgafile product with the red dot quality seal for design excellence. This recognition is received by a select few chosen from over 4,200 entries coming from 57countries.
The design team, Adrian van Wijk and Jamie McDonald from Vancouver, British Columbia, focused the early design research on sustainable production techniques.  Later working with Orgafile's unique market insight the team sought to develop a design to solve the business problems of minimizing production infrastructure, providing value to the end user and leaving noticeably less of an environmental impact than competitive products.  "I am very satisfied with our design effort," says Adrian van Wijk, Design Director at JDi Design. "Our green design solution has been recognized with best in class product design awards now, in both North America, Europe, and Africa."   
About the JDi Design Inc.
JDi Design is a group of design professionals incorporated in Vancouver, British Columbia, Canada. JDi Design is distinguished by applying creative thinking to the user-focused design of products and services. JDi Design provides green product design and development services taking ideas from concept to production in a variety of industries.

Environmental Statement
JDi Design is committed to environmental sustainability and strives to harmonize its clients' business objectives with consumer needs in balance with nature.
About Orgafile
Orgafile is in the business of offering the best solution for customers wanting to access their offline data/information effortlessly. Suitable for every home, suitable for every small or large office.
About red dot
With more than 12,000 submissions from more than 60 countries, the international "red dot design award" is the largest and most renowned design competition in the world.